06/21/2017 10:29 AM Central
One of the most difficult challenges an entrepreneur faces is staying motivated. This is especially true during the summer months. After all, those around you are playing in the great outdoors, having a good time, so why shouldn't you? Being a solopreneur means staying motivated even in those times that are distracting and slower.
Motivation is like food. You need to feed yourself every day or you won't survive. Each person needs to figure out what makes him motivated. I have a few ideas that may help you stay charged up this summer.
Remember why you started your Young Living Business
Think about your beginnings. Say to yourself, "I started my business to ____
_____."
feel better
share my excitement
discover alternatives to products
There are many, many answers to this simple question. The key is to remember why you started with Young Living.
Get inspiration from your team
Everyone has a person they know that is excited about Young Living products. Talk to that person. Enthusiasm is infectious. You will find yourself becoming excited just by being around people that are motivated.
Check your goals for the summer
Are they realistic or exceptionally challenging? My challenge to you is to make realistic goals. Plan to execute and execute your plan! Set measurable checkpoints.
Motivate others
This may seem counterintuitive, however, one of the best ways to get yourself excited and back on track is to help others get motivated. When you motivate others, you will motivate yourself. Why? It's fun to see others, especially those on your team, get excited.
Take time for you
It's summer! Have some fun! Take the time to take a walk, vacation and play with your kids. Make sure that you plan that "me" time. Not only will you have a good time, you will feel livelier and more energetic.
When your emotional fuel runs dry, try these ideas to re-charge and find that motivation that you need for surviving the summer.
"You can't wait for inspiration. You have to go after it with a club."
-Jack London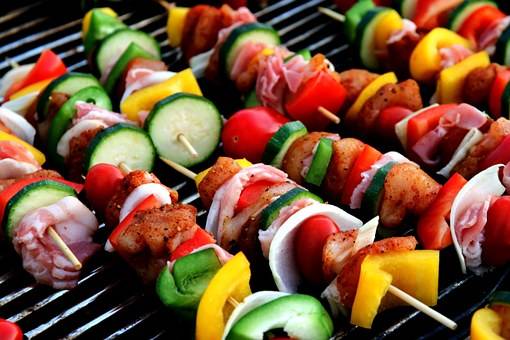 06/06/2017 12:28 PM Central
I don't know about you, but I am excited for the summer grilling season. This is a great time to have those spur of the moment get-togethers that happen when friends and family drop by your home.
Take your summer parties to a whole new level by adding essential oils to your food. Since many people aren't sure what essential oils to use when grilling, I'm going to offer a few helpful hints to make your grilling successful.
Marinades
I use a large plastic bag to marinade meats and vegetables. Take your favorite marinade and exchange one or two of the herbs with the Vitality Essential Oil equivalent. Place meat in the bag and refrigerate for a few hours. Place on the grill. Toss unused marinade. Do not mix vegetables in with the marinade used with raw meats.
If you haven't tried grilling vegetables before, here is a simple marinade guaranteed to be a hit. Take your plastic bag, add 1 cup balsamic vinegar, ½ cup olive oil and 3 chopped garlic cloves. Place sliced zucchini, onions, or any other vegetable you have in the bag. Marinate 1-2 hours and grill. Even the kids like this one. Note: the more aged the balsamic vinegar, the sweeter it tastes. A balsamic aged 20-30 years can be sipped easily with a spoon. If your vinegar is really tart you may want to add a sweetener such as agave.
Grilling Meat
One of the most important things about grilling meat is to make sure that it is well cooked. There are some great meat thermometers available now that will provide and instant temperature read for your meat.
Skewers are wonderful for grilling. If you use wooden skewers, soak them in water for 20 minutes before placing meat on them. Metal skewers should be sprayed with oil prior to use. Since vegetables cook faster than meat, I like to skewer my meats separate from the vegetable skewers.
Salads and Desserts
Adding oils to your salads and desserts is so easy. There are hundreds of recipes available now or make up your own. An easy way to brighten a simple tossed salad is to add EO to a bottle of Ranch Dressing. You can also add Lemon Vitality to a bundt or pound cake for a refreshing taste.
Be the ultimate BBQ hero with your healthy marinades, EO infused salads and great deserts! You will find yourself the house to be at for this summer. Happy grilling!