Jun 27, 2019 05:13 PM Central
Tina Serra
Wow - BACK in STOCK Items for Limited Time and your amazing upline support teams are adding to the sale! Don't miss out!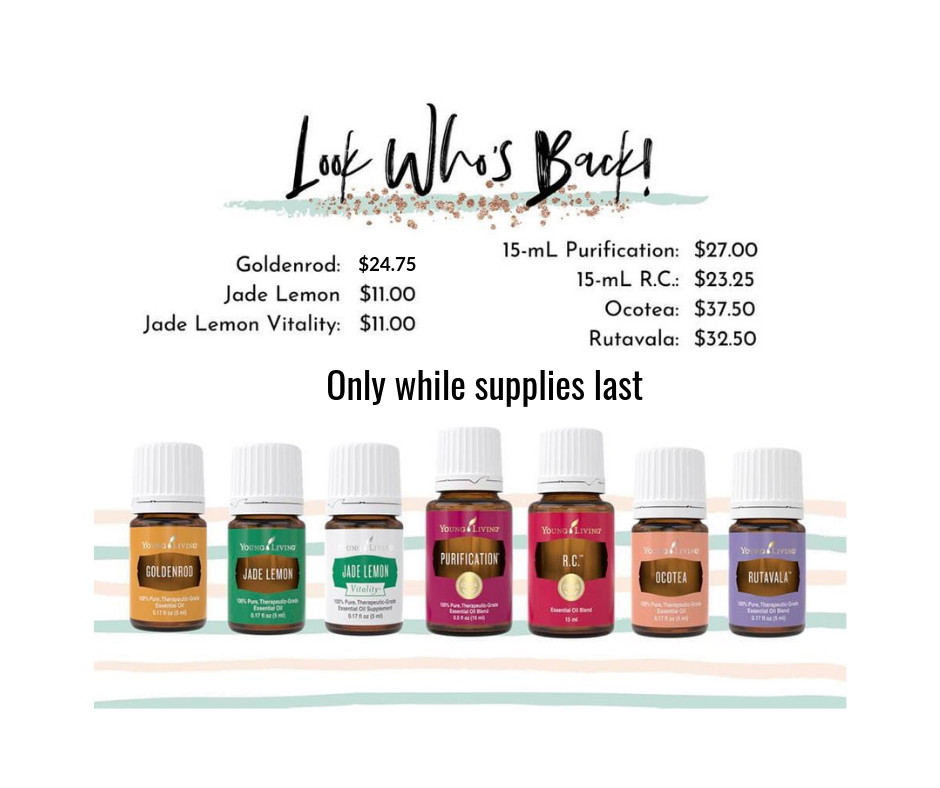 Want to be in a drawing to
win a FREE ARIA diffuser?
Stay Connected Here:
EOTC Instagram:
https://www.instagram.com/essentialoilstrainingcenter/
***********
Another GREAT promo from your upline support team Brian & Shannon Hudson in addition to my promo!!
In celebration of all things Golden, we are running a Golden TEAM Incentive!!!
We are giving away 3 Golden Touch Kits
!!! All you need to do for a chance to win is place an order for the any of the "limited time only, back in stock oils" & post that order in THIS feed!!! You get a chance to win for EACH oil you ordered!!! Oils go line
Thursday, June 27, at 10 a.m., MT, you can pick up Jade Lemon™, Jade Lemon Vitality™, Goldenrod, Ocotea, and RutaVaLa™, along with 15 ml bottles of Purification® and R.C.™! If you buy 3 of one, that is still 3 chance to win!!! Make sure you tell your team & add them to the group!!! We will announce the winners on July 1st!!
Stay Connected Here:
Their facebook page is here:
https://www.facebook.com/search/top/?q=team%20transformation&epa=SEARCH_BOX
Business Page:
https://www.facebook.com/search/top/?q=diamond%20makers%20-%20team%20transformation&epa=SEARCH_BOX
Business Training Videos:
https://livingbalancedguide.com/mentorship-focus-group/
H O L L A ✨✨✨💥💥💥
JUNE 27th ONLY ....... GIVEAWAY!!!
Starts at NOON est - 2 am est !!!!!
I think today is the day to pull this baby out ❤️💞🙌🏻
✨✨Loyalty 5ml ✨✨
You cannot EVER abut this oil....and you can only get ONE per year IF you are on Essential Rewards!!!!
For those of us who have this we KNOW...we LOVE it!!!
We are giving you one of ours!!!!
I want to BLESS someone today with this ....
How to qualify ⬇️⬇️⬇️⬇️
➕Any size quick -order placed TODAY ( June 27 ) will be entered to win this UNICORN 🦄 oil — LOYALTY ( $130 value 😲)
👉Each Oil your order is an ENTRY!!!
👉Be sure to comment which oils you ordered and how many entries!!!
➕You must COMMENT below with screen shot of what you ordered and date!!!! This must be commented by 11:59pm June 27th!
➕ this is only valid for those inside this group , and of course within my organization Team Transformation 💋💞
You can not Post for anyone but yourselves except spouses - that's the only exception!
But you can definitely TAG your members so they don't miss out!!!
Winner will be drawn tomorrow - June 28th
Have fun ✨🙌🏻✨🙌🏻 and GOOD LUCK!!!!
PS ... tag your friends .... come on friends don't let friends miss out on this !!!!!
Mike & Tina Serra
Text me at 989-714-7778